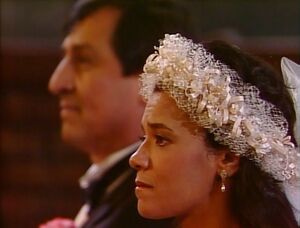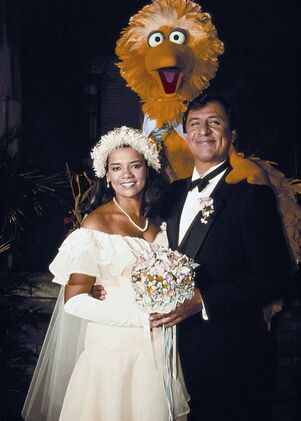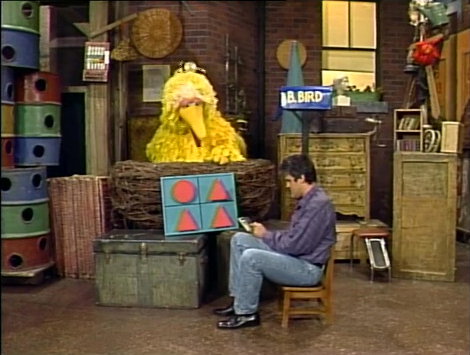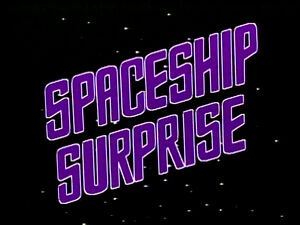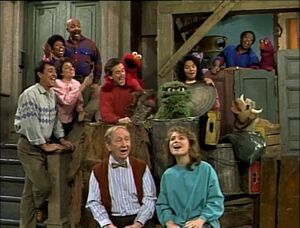 Sesame Street Season 19 aired from November 16, 1987 to May 13, 1988.
Episodes
Episodes 2356 - 2485 (130 episodes)
Notes
Cast
Muppet Characters
Alice Snuffleupagus, Anything Muppets, the Amazing Mumford, Baby Natasha, Big Bird, Mr. Snuffleupagus, Oscar the Grouch, Grundgetta, Bert, Ernie, Hoots the Owl, Barkley, Buster the Horse, Cookie Monster, Count von Count, Dr. Nobel Price, Elmo, Grover, Herry Monster, Mr. Honker, Honkers, Juliet, Kermit the Frog, Meryl Sheep, the Oinker Sisters, Ruby, Telly Monster, Two-Headed Monster
Other Characters
Season 19 Credits
Executive Producer: Dulcy Singer
Producer: Lisa Simon
Director: Jon Stone
Head Writer: Norman Stiles
Writers: Nancy Sans, Luis Santeiro, Cathi Rosenberg-Turow, Belinda Ward, Sonia Manzano, Jeff Moss, Sara Compton, Judy Freudberg, David Korr, John Weidman, Tony Geiss, Emily Perl Kingsley, Mark Saltzman, Jocelyn Stevenson, Christian Clark, Tom Dunsmuir, Jon Stone
Supervising Film Producer: Edith Zornow
Coordinating Producer: Arlene Sherman
Muppets, Costumes, Props: Kermit Love, Caroly Wilcox, Connie Peterson, Peter MacKennan, Stephen Rotondaro, Mark Zeszotek, Jitka Exler, Richard Termine
Music Director: Joe Raposo
Special Songs: Joe Raposo, Jeff Moss, Christopher Cerf, Cheryl Hardwick
Associate Music Director: Dave Conner
Music Coordinator: Danny Epstein
Production Supervisor: Frieda Lipp
Editing Supervisor: Robert J. Emerick
Associate Directors: Ted May, Diane P. Mitchell, Eulogio Ortiz, Jr.
Production Designer: Victor DiNapoli
Costume Designer: Bill Kellard
Graphic Artist: Mike Pantuso
Set Decorator: Nat Mongioi
Production Stage Manager: Chet O'Brien
Stage Manager: Mortimer J. O'Brien
Curriculum Coordinator: Diane P. Mitchell
Production Assistants: Cheryl Ann Jung, Ruthie E. Hiatt, Carol D. Mayes, Rudy Vallecillo
Assistant to the Producer: Danette De Sena
Script Coordinator: Thelma Moses
Children's Casting: Martha O'Connor, Gabrielle Howard
Unit Manager: Eleanor McIntosh
Technical Director: Ralph Mensch
Lighting Director: Dick Weiss
Sound Effects: Dick Maitland
Audio: Blake Norton, Tim Lester
Cameras: Frank Biondo, Dave Driscoll
Videotape Editor: Evamarie Keller
Make-Up: Lee Halls
Hair Stylist: Karen Specht
Wardrobe: Grisha Mynova
Vice President for Research: Keith W. Mielke, Ph.D.
Director of Research: Valeria Lovelace, Ph.D.
Curriculum Specialist: Margarita Perez
Chairman, Board of Advisors: Gerald S. Lesser, Ph.D.
Vice Presidents for Production: David D. Connell, Al Hyslop
Facilities by Unitel Video, Inc.
Sources
↑ "The Reflections of Oscar the Grouch", Oscar the Grouch, Guest editor, November 5, 2009. Life Magazine.