Sesame Street
Premiere
November 17, 1986 (2226)
Finale
May 15, 1987 (2355)
Episodes
130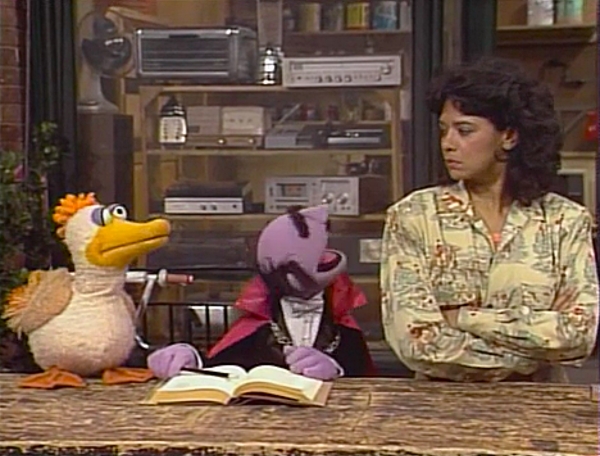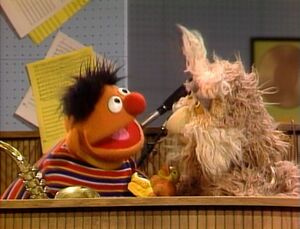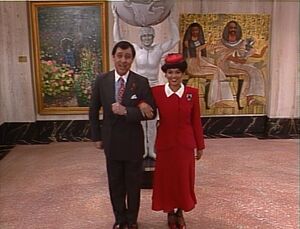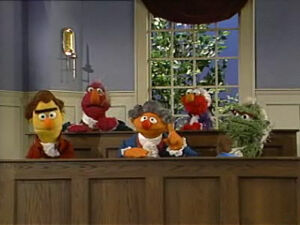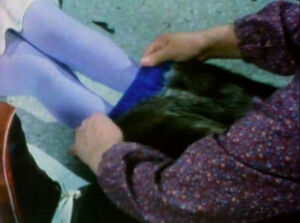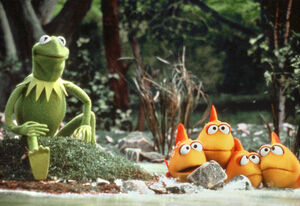 Sesame Street Season 18 aired from November 17, 1986 to May 15, 1987.
Overview
The curriculum for Season 18 will be focusing on math literacy as they increase teaching numbers from 1 to 40. "Our information told us that many 5-and 6 year olds could count up to 100," said Dr. Valeria Lovelace, director of research for the series. "We'll be trying to put mathematics in everyday situations within our street scenes."[1] Sequence and patterns will be added and concepts will be integrated into everyday situations.[2]
Episodes
Episodes 2226 - 2355 (130 episodes)
Cast
Muppet Characters
Anything Muppets, the Amazing Mumford, Barkley, Bert, Big Bird, Chip and Dip, Clementine, Cookie Monster, Count von Count, Dingers, Dr. Nobel Price, Ducks, Elmo, Ernie, Flo Bear, Forgetful Jones, Gladys the Cow, Grandpa Grouch, Grover, Grundgetta, Hoots the Owl, Honkers, Juliet, Kermit the Frog, the Martians, Baby Natasha, Oscar the Grouch, Placido Flamingo, Mr. Snuffleupagus, Slimey, Sonny Friendly, Telly Monster, Two-Headed Monster
Other Characters
Credits
Executive Producer: Dulcy Singer
Producer: Lisa Simon
Directors: Lisa Simon, Jon Stone
Head Writer: Norman Stiles
Writers: Sara Compton, Tony Geiss, Jeff Moss, Emily Perl Kingsley, Tom Dunsmuir, David Korr, Mark Saltzman, Cathi Rosenberg-Turow, Sonia Manzano, Nancy Sans, Belinda Ward, Luis Santeiro
Music Director: Joe Raposo
Supervising Film Producer: Edith Zornow
Associate Producer: Arlene Sherman
Muppets by: Caroly Wilcox, Kermit Love with Richard Termine, Mark Zeszotek, David Velasquez, Robert Flanagan
Music Coordinator: Danny Epstein
Assistant Music Director: Dave Conner
Production Supervisor: Frieda Lipp
Editing Supervisor: Robert J. Emerick
Associate Directors: Niles Goodsite, Eulogio Ortiz, Jr., Robert J. Emerick, Diane P. Mitchell
Production Desginer: Victor DiNapoli
Costume Designer: Bill Kellard
Graphic Artist: Sam McLean
Set Decorator: Nat Mongioi
Production Stage Manager: Chet O'Brien
Stage Managers: Mortimer J. O'Brien
Curriculum Coordinator: Joseph M. Catalano
Production Assistants: Diane P. Mitchell, Cheryl Ann Jung, Rudy Vallecillo
Assistant to the Producers: Danette DeSena
Script Coordinator: Thelma Moses
Child Talent Coordinator: Carol D. Mayes
Unit Manager: Eleanor McIntosh
Technical Director: Ralph Mensch
Lighting Director: Dick Weiss
Sound Effects: Dick Maitland
Audio: Blake Norton
Camera: Frank Biondo, Arnold Giorando, Jerry Gruen
Videotape Editor: Evamarie Keller
Make-Up: Lee Halls
Hair Stylist: Karen Specht
Wardrobe: Grisha Mynova
Vice President for Research: Keith W. Mielke, Ph.D.
Director of Research: Valeria Lovelace, Ph.D.
Chairman, Board of Advisors: Gerald S. Lesser
Curriculum Specialist: Margarita Perez
Vice Presidents for Production: David D. Connell, Al Hyslop
Recorded at Reeves Teletape III
Sources
↑ The Montreal Gazette: Sesame Street starts its 18th season with old faces and some new ones, too.