Sesame Street
Premiere
November 23, 1981 (1576)
Finale
May 21, 1982 (1705)
Episodes
130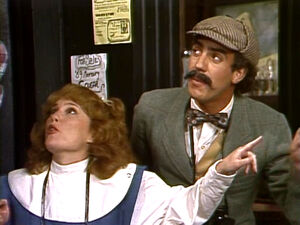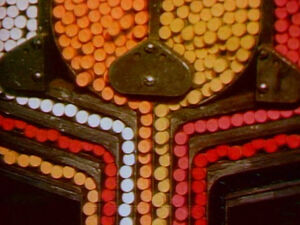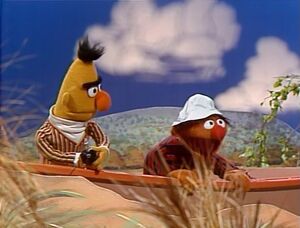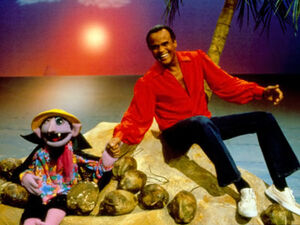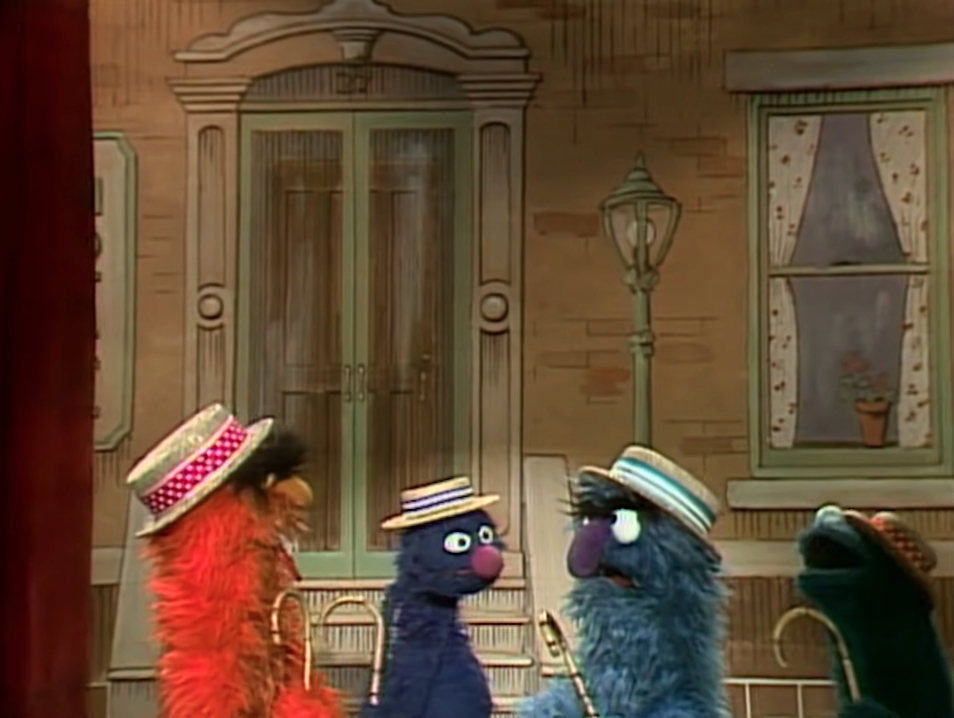 Sesame Street Season 13 aired from November 23, 1981 to May 21, 1982.
Season Overview
This season will expanded its curriculum and include new emphasis on the development of listening skills and the ability to follow directions. Pre-reading segments will include illustrations on the practical uses and pleasures of reading.[1]The concept of environment is also introduce this season. Al Hyslop comments, "For 2 and 3 year olds, the fact that there is an environment is terribly important, though they won't recognize it as that. When you are 4 and 5, you begin to discover there are certain qualities that have to do with environment, like endangered species." In the opening episode (1576), the concept of "endangered species," focus on Big Bird as the rare beast in question. A new muppet character name Aristotle, who is a blind monster, is introduce this season to continued to explore the area of the handicapped.[2]
Episodes
Episodes 1576 - 1705 (130 episodes)
Cast
Muppet Characters
Anything Muppets, Aristotle, Barkley, Bert, Big Bird, Buster the Horse, Clementine, Cookie Monster, Count von Count, Dinger, Dr. Nobel Price, Ernie, Forgetful Jones, Grover, Herry Monster, Honkers, Kermit the Frog, Oscar the Grouch, Mona Monster, Mr. Snuffleupagus, Telly Monster, The Twiddlebugs, Two-Headed Monster, Uncle Slim
Human Characters
Season 13 Credits
Executive Producer: Dulcy Singer
Producer: Lisa Simon
Directed by: Jon Stone, Lisa Simon
Head Writer: Norman Stiles
Writers: Joseph A. Bailey, Sara Compton, Tom Dunsmuir, Judy Freudberg, Tony Geiss, John Glines, Emily Perl Kingsley, David Korr, Luis Santeiro, Ray Sipherd
Supervising Film Producer: Edith Zornow
Associate Producer: Arlene Sherman
Original Muppets by: Don Sahlin, Kermit Love
Current Muppets by: Caroly Wilcox, Ed Christie, Cheryl Blalock
Music Coordinator: Danny Epstein
Conductor: Dave Conner
Post Production Supervisor: Ozzie Alfonso
Associate Director: Ted May
Production Supervisor: Frieda Lipp
Art Director: Victor Di Napoli
Production Stage Manager: Chet O'Brien
Stage Managers: Mortimer J. O'Brien, Hank Smith
Set Decorator: Nat Mongioi
Costume Designer: Bill Kellard
Graphic Artist: Gerri Brioso
Senior Scenic Artist: Jane K. Asch
Production Assistants: Joseph Catalano, Robert Gardner, Cheryl Ann Jung, Diane Mitchell, Danette Morganelli, Thelma Moses, Lynn Roberge
Unit Manager: Ruth Scovill
Technical Director: Ralph Mensch
Lighting Director: Randy Nordstrom
Sound Effects: Dick Maitland
Audio: Louis J. Bruno
Video: Bryan Keen
Cameras: Frank Biondo, Arnold Giorando, Jerry Gruen, Joe Lo-Re
Videotape Editors: John Hutchison, Ben Wilder
Make-Up: Michael Gemelli
Hair Stylist: Karen Specht
Wardrobe: Grisha Mynova
Curriculum Coordinator: Robert Emerick
Vice President for Research: Edward L. Palmer, Ph.D.
Director of Research: Lewis J. Bernstein, Ph.D.
Assistant Director: Bettina Peel
Researcher: Janet Shapiro
Chairman, Board of Advisors: Gerald S. Lesser
Vice Presidents for Production: David D. Connell, Al Hyslop
Sources
↑ The Miami News: 'Sesame Street' a teen, but still thinks young
↑ Ocala Star-Banner: 'Sesame Street' A TV Teen-Ager
Ad blocker interference detected!
Wikia is a free-to-use site that makes money from advertising. We have a modified experience for viewers using ad blockers

Wikia is not accessible if you've made further modifications. Remove the custom ad blocker rule(s) and the page will load as expected.