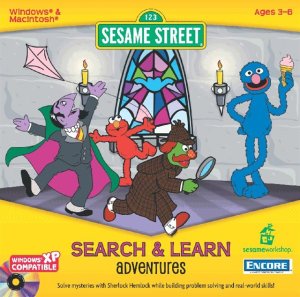 Search & Learn Adventures is a 1996 Sesame Street CD-ROM game for home computers. The game was developed by Creative Wonders and Children's Television Workshop in 1996, and re-released in 1998, 2000 (by Mattel Media), and 2004 (by Encore Software). Sherlock Hemlock guides users as they find the clues to solve puzzles and mysteries. Concepts emphasized are safety, healthy eating and recycling; skills developed include critical thinking and problem solving. There are more than 20 activity combinations and multiple skill levels.
The game's story features the whole Sesame Street gang planning a trip, but The Amazing Mumford's trick to get them there makes all the items they plan to bring scatter all over the street. It's up to Sherlock and Watson to retrieve the items.
This game was included in the 2-disc Sesame Street Learning Series: Elmo's Preschool Deluxe CD-ROM set along with Elmo's Preschool.
Gallery
Contents
Voice Cast
Ad blocker interference detected!
Wikia is a free-to-use site that makes money from advertising. We have a modified experience for viewers using ad blockers

Wikia is not accessible if you've made further modifications. Remove the custom ad blocker rule(s) and the page will load as expected.