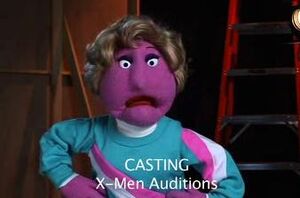 Scorn is a mutant Whatnot Muppet superhero who appears in Episode 24 of Statler and Waldorf: From the Balcony. Her ex-husband left her with five kids and a mortgage. She hopes she won't be seeing him again for his sake. The character auditioned for X-Men III, however she was rejected. To this, she feels like she's been tossed aside again and goes after the director.
The same puppet was used earlier as one of Statler and Waldorf's Nurses on Muppets Tonight.
Ad blocker interference detected!
Wikia is a free-to-use site that makes money from advertising. We have a modified experience for viewers using ad blockers

Wikia is not accessible if you've made further modifications. Remove the custom ad blocker rule(s) and the page will load as expected.