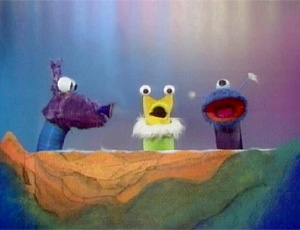 Sclrap Flyapp is a sketch featured many times on variety shows. The Sclrap Flyapp alien blows smoke at anyone that doesn't say "Sclrap Flyapp," especially a snail-like alien who prefers to say "merp."
Jim Henson introduced the sketch on The Today Show, reused it on The Tonight Show, and in its best remembered outing, on The Ed Sullivan Show. It was later reworked into the sketch "Hugga Wugga", which was performed on The Muppet Show in episode 118.
Performed
Releases
Video
Gallery
Sources
See also
Ad blocker interference detected!
Wikia is a free-to-use site that makes money from advertising. We have a modified experience for viewers using ad blockers

Wikia is not accessible if you've made further modifications. Remove the custom ad blocker rule(s) and the page will load as expected.