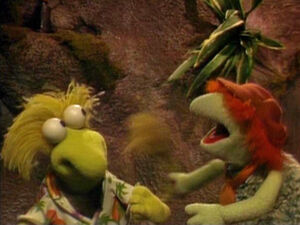 Boober scares Wembley to test his baloobius, the fringe on the end of a Fraggle's tail that flares out when he's scared. Annoyed, Wembley sets up a trap to scare Boober after being inspired by Philo and Gunge despite the warnings of Marjory the Trash Heap. Wembley booby traps Boober's room, but he fears that his scheme has had disastrous results.
Meanwhile, Doc ends up falling for a prank set by Ned Shimmelfinney and wants payback by setting up a prank for Ned to fall into.
Supporting cast
Songs
Video releases
Ad blocker interference detected!
Wikia is a free-to-use site that makes money from advertising. We have a modified experience for viewers using ad blockers

Wikia is not accessible if you've made further modifications. Remove the custom ad blocker rule(s) and the page will load as expected.