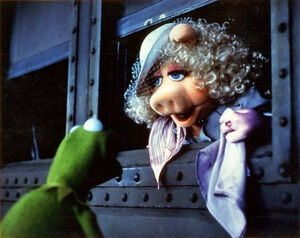 "Saying Goodbye" is an original song written for The Muppets Take Manhattan.
The Muppets perform "Saying Goodbye" once they are forced to go their separate ways after having been unable to sell their musical Manhattan Melodies to a Broadway producer.
While Kermit (and, secretly, Miss Piggy) stay in New York City, the rest (Fozzie, Gonzo and Camilla, Scooter, Rowlf, and the Electric Mayhem) leave the city in search of jobs, but promise to reunite if they get word from Kermit that he has found backing for the show.
The song was also reprised during the ending credits, along with "Together Again."
Kermit the Frog and Miss Piggy sang a duet version of "Saying Goodbye" when they appeared to promote The Muppets Take Manhattan on The Merv Griffin Show.
See also
Ad blocker interference detected!
Wikia is a free-to-use site that makes money from advertising. We have a modified experience for viewers using ad blockers

Wikia is not accessible if you've made further modifications. Remove the custom ad blocker rule(s) and the page will load as expected.