Sax and Violence
Talk

0
26,856pages on
this wiki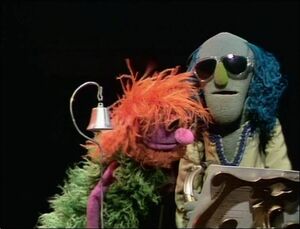 "Sax and Violence" is meant to have been a sax solo by Zoot for episode 102 of The Muppet Show. Before he begins his song, he doesn't want to play it, but Nigel talks him into it by threatening to get a new sax player.
During the performance, Zoot blows small notes of music at a time, and halfway through the performance, Mahna Mahna shows up playing a bell and wildly hitting Zoot's saxophone and face.
A shot of Zoot blowing his sax from this number was shown at the very end of the It's the Muppets videos from 1993. This same shot was used at the end of The Muppet Show reruns on Nickelodeon, as well as The Very Best of the Muppet Show UK DVD releases.
It was also used for the music of a montage on The Muppets Celebrate Jim Henson.
A synthesizer version played over a montage of clips about antlers and horns in episode 124 of The Animal Show.
Releases
Audio
Video