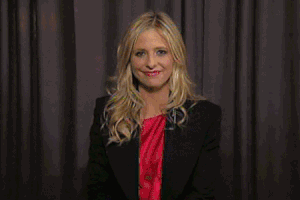 Sarah Michelle Gellar (b. 1977) is an American actress, singer and producer best known for her title role of Buffy Summers on Buffy the Vampire Slayer. She is married to actor Freddie Prinze, Jr.
Gellar appeared as a guest on Jimmy Kimmel Live on November 14, 2011, while Miss Piggy was on the show promoting The Muppets. In a brief backstage clip leading into commercials, Gellar was snubbed by the pig while trying to get a picture or an autograph. Kimmel and Gellar talked about the incident moments later, with Kimmel assuring her that Miss Piggy was "hostile towards attractive women in general."
She presents the word "Disappointed" as The Word of the Day with Elmo, a chicken, and a Fat Blue Anything Muppet in Sesame Street Season 44.
Gellar's other credits include the Buffy spin-off Angel, the feature films I Know What You Did Last Summer Scooby-Doo with husband Freddie Prinze, Jr. and Matthew Lillard, the soap opera All My Children with Susan Lucci, Sex and the City, Robot Chicken, and hosting Saturday Night Live.
External links
Ad blocker interference detected!
Wikia is a free-to-use site that makes money from advertising. We have a modified experience for viewers using ad blockers

Wikia is not accessible if you've made further modifications. Remove the custom ad blocker rule(s) and the page will load as expected.