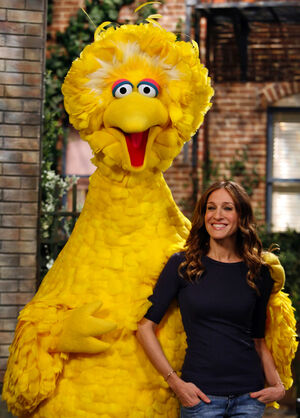 Sarah Jessica Parker (b. 1965) is a comic actress best known for her starring role as Carrie Bradshaw on the HBO television series Sex and the City. She is married to actor Matthew Broderick.
Parker appeared as a guest star in the Shalom Sesame episodes "Passover" and "Kids Sing Israel," and appeared in the Sesame Beginnings video Moving Together. She appeared on Sesame Street in a 2007 episode and a 2010 episode. In the latter, she is "waiting for big," which was not only intended to teach the meaning of the words big, bigger, and biggest, but was also a play on her role in Sex and the City, in which she had an on-and-off relationship with "Mr. Big," portrayed by Chris Noth.
Her brother, Pippin Parker, has written for Bear in the Big Blue House.
Parker was one of many actresses to audition for the role of Sarah in Labyrinth.[1]

Sources
External links
Ad blocker interference detected!
Wikia is a free-to-use site that makes money from advertising. We have a modified experience for viewers using ad blockers

Wikia is not accessible if you've made further modifications. Remove the custom ad blocker rule(s) and the page will load as expected.