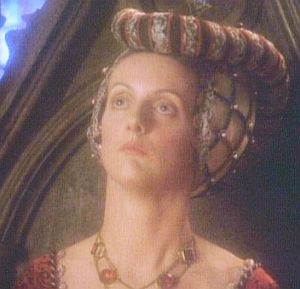 Sarah Crowden (b. 1955) is an actress and the daughter of Graham Crowden. She appeared in the StoryTeller episode "A Story Short" as the queen.
Crowden's other TV credits include the Dickens adaptations Great Expectations (1989, as Miss Skiffins) and Our Mutual Friend (1996, as a guest) and episodic roles in the detective series Poirot, Lord Peter Wimsey, Lovejoy, and Campion, as well as Downton Abbey. Films include Billy the Kid and the Green Baize Vampire (with Louise Gold), Erik the Viking, Mr. Holmes (as Mrs. Hudson), and The Man Who Knew Too Little (with Richard Wilson and John Standing).
External links
Ad blocker interference detected!
Wikia is a free-to-use site that makes money from advertising. We have a modified experience for viewers using ad blockers

Wikia is not accessible if you've made further modifications. Remove the custom ad blocker rule(s) and the page will load as expected.