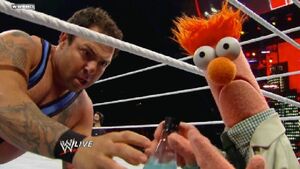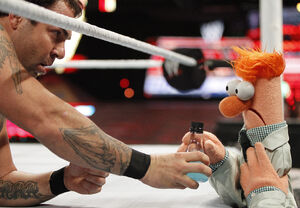 Santino Marella (born Anthony Carelli, 1979) is an Italian-Canadian professional wrestler formerly signed to the WWE. A two-time Intercontinental Champion and employs comedic elements into his routine.
Marella appeared on the Halloween 2011 episode of WWE Raw where the Muppets appeared as part of a promotional for the film The Muppets. During the course of the show, Dr. Bunsen Honeydew creates a strength drink for Santino, but before Beaker can deliver it to the ring, he is bullied by Christian who pours out the first batch before being chased off by Sheamus.
External links
Ad blocker interference detected!
Wikia is a free-to-use site that makes money from advertising. We have a modified experience for viewers using ad blockers

Wikia is not accessible if you've made further modifications. Remove the custom ad blocker rule(s) and the page will load as expected.