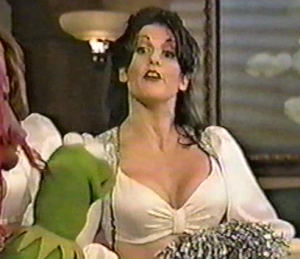 Sandy Fox (b. 1962) is an actress known primarily for her voice-over work. She made an on-camera appearance on Muppets Tonight episode 205, as the spokeswoman for Ernst Stavros Grouper's corporate majorettes. She also supplied additional "loop group" voices for It's a Very Merry Muppet Christmas Movie.
Fox' credits include roles in various Japanese animated productions, including Cowboy Bebop, the second dub of Akira, and Ghost in the Shell: Stand Alone Complex. Her other character voice roles include Betty Boop and Olive Oyl for Universal Studios theme parks, crowd walla for The Simpsons, and Dinah in The Land Before Time IV.
External links
Ad blocker interference detected!
Wikia is a free-to-use site that makes money from advertising. We have a modified experience for viewers using ad blockers

Wikia is not accessible if you've made further modifications. Remove the custom ad blocker rule(s) and the page will load as expected.