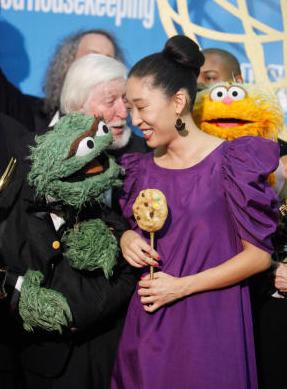 Sandra Oh (b. 1971) is an Emmy Award nominated Canadian actress best known for her role as Cristina Yang on Grey's Anatomy and for the feature film Sideways. She appeared in a 2008 episode of Sesame Street as Cookie Monster's "fairy cookie person", and bestows upon him the "cookie touch": whatever he touches will turn into a cookie. After several mishaps, she rescinds the gift.
She also presented the lifetime achievement award to Sesame Street, at the 2009 Daytime Emmy Awards.
External links
Ad blocker interference detected!
Wikia is a free-to-use site that makes money from advertising. We have a modified experience for viewers using ad blockers

Wikia is not accessible if you've made further modifications. Remove the custom ad blocker rule(s) and the page will load as expected.