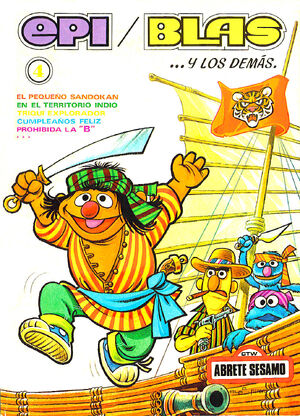 Sandokan is a pirate known as the "Tiger of Malaysia" and protagonist of the adventure novels by Italian author Emilio Salgari. A Bornean prince who turned to piracy as vengeance against the British colonial regime, he debuted in the serialized story "The Tigers of Mompracem" (ca. 1883). His sidekick is the Portuguese adventurer Yanez.
The books were adapted for a 1976 TV series, a co-production between multiple European countries. The character has also featured in films and animated series.
References
In issue 4 of the 1970s comic Epi, Blas y los demás, the story "El Pequeño Sandokan" has Ernie watching the 1976 Sandokan TV show. He's inspired to imagine himself in the story, with Bert as the constantly smoking Yanez. He flies a tiger on his flag, as Sandokan does. The pirate crew includes Grover, Cookie Monster, and Lefty. The Count plays the antagonist, James Brooke, leading a detachment of British soldiers.