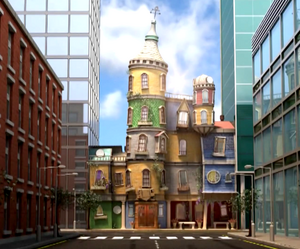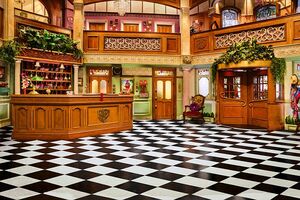 The Furchester Hotel is the titular location of the Sesame Street co-production, The Furchester Hotel. Thought not directly stated where it is located, the hotel is shown to be in the middle of a bustling city somewhere in England. The hotel is named after, and operated by, the Furchester family - Funella Furchester, husband Furgus Fuzz and daughter Phoebe Furchester-Fuzz. In the series, their relative Elmo comes for an extended stay, along with Cookie Monster, who earns his keep as the hotel's dining room and room service waiter. Also on staff are Isabel, the front desk bell monster, and Gonger, the kitchen chef. The staff is frequently shown to go to great lengths to provide quality service to their guests, though the establishment holds a mere half-star rating (which they gladly boast).
The hotel has a broad range of cliental, ranging from humanoid Anything Muppets to monsters, animals and animate objects. One long-term resident is Mr. Harvey P. Dull, who bears the brunt of the hotel's shenanigans. Every guest is personally welcomed by Funella with the hotel's slogan, "We welcome you with furry arms," accompanied by a hug.
The hotel provides many accommodations to fit the needs of any guest from any walk of life. It features a number of different suites, ranging from a "Hibernation Suite" to a "Nest Suite." Each room door is equipped with three doorknobs, set at different heights to allow guests of any size access.
Design
Over 150 hand-painted pictures[1]
Sources
See also
Ad blocker interference detected!
Wikia is a free-to-use site that makes money from advertising. We have a modified experience for viewers using ad blockers

Wikia is not accessible if you've made further modifications. Remove the custom ad blocker rule(s) and the page will load as expected.