See also
From Jim Henson: The Biography by Brian Jay Jones:
"

If was fortunate for Jim he had found such a proficient female performer, for both Jim and Joan Cooney had been under fire from women's organizations for the lack of female Muppets, and Muppet performers, on Sesame Street. "That was very much criticized," Cooney recalled. "We had a terrible time."

Ultimately, hiring Brill turned out to be more than meeting a mere quota. "She brought a sharpness" to the the Muppets, said Oz, "a sense of craft.... She wasn't always funny, but that didn't matter. She knew our rhythms." After performing in The Great Santa Claus Switch, Brill would cross over to Sesame Street, a first performing Ernie's right hand, then working her way into characters of her own, including the forthright Prairie Dawn, a character should would perform for the next forthy years. Jumping into the mix with Jim and the Muppet team, Brill said later, was "analogous to a family of boys acquiring a female sibling. The family remained a 'boys club' but the dynamic changed when I as the younger 'sister' arrived.... I got kidded but I had to earn their respect. I had to keep up. it was challenging but an enormous amount of fun.""
On female puppeteers on The Muppet Show
From a 2013 interview with Kathy Mullen by Tough Pigs:
"

[Jim] never felt like he needed women puppeteers, and there weren't many because as far as Jim was concerned, the funny part was a guy playing the female character, like Piggy. And he was right, that was funny! So why would you necessarily need female puppeteers. He didn't. But he felt very strong that he needed that on The Dark Crystal. He wanted a real female on this one. So he said to me, almost out of the box when I got there, "I'm doing this thing and I think I want you to do this part. You need to come and get into training." So I went back to The Muppet Show and I started to work.

...

A couple of women came in and out, Karen Prell was one of them, she came for a season or a part of a season. Another woman, a dancer, came in. And there were some women before me. But the only one who stayed was Louise Gold. So Louise and I were there all the time. And of course, all the gals in the shop. So we never lacked for women, we only lacked for women performers. And you know, Jim didn't need, at that point, a lot of women. "Let Frank do it!""
When asked in a 2017 interview if there was ever any thought of having a woman perform Miss Piggy, Frank Oz stated:
"

It wasn't the question of a woman or not. It was the question of who's the funniest. If there was a woman who was as funny as me doing Piggy, then we would have traded off. It's not about that. These characters came alive by some sort of joyous chemistry that Jim guided us on.

"
On the creation of Skeeter
When asked in 2008, about Skeeter, Muppet writer Jim Lewis said: "I wasn't there for the creation of the "Muppet Babies" animated series, but I suspect she was added to the show so there'd be another (dare I say, more balanced than Baby Piggy) female character on a show aimed at kids."
Michael K. Frith commended on Skeeter's origins stating: "We had Piggy and Nanny, strong female characters, but we needed at least one more. The Muppets evolved around the puppeteers. You can say disparagingly it was a boys' club, but no more so than The Beatles were." Frith also says that they never really considered adding Skeeter as an adult character to the puppet troupe due to the already large cast of characters, stating "We never said, 'Oh, let's take an old Scooter puppet and put on some long hair and a dress. One of the problems one has with a vast repertory company is accounting for all of the characters and giving them the face time they need. It becomes a handful to try and corral."[1]
On female puppeteers on Sesame Street
Brian Muehl on [The Getting Felt Up Podcast] (February 2017):
"

Because the main Muppet guys were in London shooting, and were very unavailable because they were shooting The Muppet Show, I was like the new kid on the block and I got to play just about everything because there was a lack of puppeteers on Sesame Street at the time because of the veterans being in London.… It was so open and I played a lot of female characters, and by the time I left Sesame Street—five-six years later—the rule was that, you know, they wanted to bring in more women puppeteers, and the rule became gender-specific — only women played women characters, and only guys played guy characters. But, you know, I got to play Grundgetta, Oscar's girlfriend.… The other character was, because Jerry Nelson wasn't around, was I did several pieces as The Countess, which was a female equivalent of The Count.

"
Sonia Manzano on Old School: Volume 3 commentary for Episode 1316 (September 2012):
"

I tried being a puppeteer on the show when I first...when I was first cast and they wanted female puppeteers. And boy, I couldn't do it.

"
On the creation of Zoe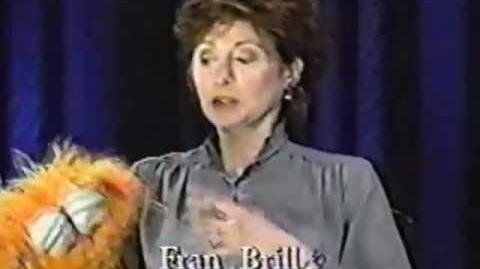 From Street Gang by Michael Davis (pg 323-324):
"

Writing in TV Times, the Sunday listings guide inserted into the LosAngeles Times, reporter Jack Matthews wrote, "Valeria Lovelace, who has headed research for eleven years, says the new characters are usually 'the babies of the writers,' but this year most were created to facilitate the show's curriculum. 'We usually move into the process when the character has been created and can go out and test them.' We've been in the loop much earlier with these.... Every year we have created a female Muppet character, but they haven't been successful. This year we're trying to create a star who will be a very good role model for girls, in terms of taking initiates and goals.'"

The New York Times reported that CTW was "counting on Zoe to fill an embarrassing lacuna that has dogged the show since its creation in 1969: the lack of a strong, female Muppet." Lovelace said in the piece, "Little girls need to have role models on the show ... [to] see them and say, 'That's like me.'"

In advance of the twenty-fith season debut, People magazine got closer to the truth than its editors may have even realized. "Political correctness has created a monster on Sesame Street," it declared. "Hoping to bring more positive female role models to children's television, the folks at that august address have a new resident who is indeed perfectly PC—perpetually cure, that is. [Zoe] is scruffy, wide-eyed and the color of a radioactive orange Popsicle. Only three, she is already pegged to be a star—the first female supernova of the show.""
From The New York Times (August 1993):
"

In introducing new female characters over the years, though, the show has repeatedly failed to find the right chemistry; one character after another has somehow stayed one-dimensional, failing to stir the imaginations of children or, importantly, the show's writers. A shortage of skilled female puppeteers has made the quest harder.

"We've had many female characters, it's just that they have not emerged as popular as some of the male characters," said Norman Stiles, chief writer for "Sesame Street," sounding a bit exasperated. Viewer surveys show, in fact, that most children can't even remember the female Muppets' names.

"One character I feel a lot of the critics out there won't acknowledge is Grundgetta, a female grouch," Mr. Stiles said of Oscar's trashy friend. "She's been around for years and I think she's the greatest."

(The most famous female Muppet created by Jim Henson Productions, which despite Mr. Henson's death in 1990 still supplies and manages the show's puppets, is Miss Piggy, but she does not appear on "Sesame Street" and is not exactly a role model.)

Staff members credit Michael Loman, a former sitcom writer and producer who took over in January as executive producer of "Sesame Street," with making sure the sex problem would be solved this year, as the show marks its 25th season with a major expansion of its set and cast, both Muppet and human.

"At this point, excuses don't count, we have to do it," Mr. Loman said recently of the need for female characters. "It was a priority of mine." All five new Muppets -- Zoe, Sherry Netherland (owner of a chaotic Muppet hotel called the Furry Arms) and the Squirrelles, a Motown-style trio of singing squirrels -- are female. But the staff has its highest hopes are for Zoe, who even before taping begins late this month has achieved a strong persona."
From The New York Time (August 2006):
"

Liz Nealon, executive vice president and creative director of Sesame Workshop, the nonprofit organization behind "Sesame Street," wasn't sure exactly what she wanted in a new Muppet for the show's 37th season, which starts on Aug. 14. But she did have one major goal: She wanted the creative team, at long last, to come up with a female Muppet star. The show did already have a number of female characters, including Zoe, a rambunctious, orange, furry friend of Elmo's, and Rosita, an emerald-blue, bilingual Muppet with a sweet, friendly soul.

"We have our wacky, and we have our gentle," Ms. Nealon said in a recent interview. "But we wanted a lead female character. If you think about 'The Mary Tyler Moore Show,' some girls relate to Rhoda, who's our Zoe, and some girls really relate to Mary, who's a girly girl. And we didn't have that girl. We made a definite decision to sit down with the writers to figure out what this character might be."

The feminist-minded parent might not only applaud the decision to make a more high-profile female character, but wonder why on earth it took so long. "Sesame Street," created to help underprivileged kids prepare for kindergarten, has over the years gone out of its way to include images of children of every creed and color, and every level of physical ability and disability.

Yet its producers acknowledge it has never come up with a single female character with anything close to the name recognition of Big Bird or Cookie Monster or Ernie and Bert. (The closest that the Jim Henson Company, which designs Muppets for "Sesame Street," has come is Miss Piggy. But she starred on "The Muppet Show," not "Sesame Street," and probably for good reason. You have to go back to "Dynasty" reruns to find a more jealous, vain and domineering female role model on television.)

Even bastions of liberal creativity like "Sesame Street" are apparently vulnerable to the realities of show business, including a disproportionately high ratio of male to female puppeteers, said Rosemary Truglio, executive vice president for education and research at Sesame Workshop. (Miss Piggy has always been played by male puppeteers, starting with Frank Oz.) And a show as politically sensitive as this one has an added challenge: finding female characters that make kids laugh, but not laugh at them as female stereotypes.

"If Cookie Monster was a female character," said Carol-Lynn Parente, executive producer of the show, "she'd be accused of being anorexic or bulimic. There are a lot of things that come attached to female characters." For example, said Deborah Aubert, associate director of national programs and training services at Girls, Inc., a nonprofit advocacy group. "It would be hard to have a female character with Elmo's whimsy who didn't also seem ditzy."

But it's not just a high-minded interest in gender equality that drove the search for a strong female character. The success of "Dora the Explorer," a show built around a strong female lead, has not gone unnoticed by its competitors at "Sesame Street." " 'Sesame Street' is living in an increasingly competitive market," Ms. Nealon said. "We used to be the only game in town, and now we're having more conversations about where are all the points of appeal of our cast. We're trying to be as absolutely broad-based as we can be.""
From NPR (August 2006):
"

The show's executive producer, Carol-Lynn Parente, says adding Abby to the cast will give the show another way to teach about diversity.

It's also a chance to provide a strong role model for girls. Creating characters for girls is the "challenge of trying to write so that they're reflective of girls and their character, but also are strong and smart and funny," Parente says."
On the lack of female characters in The Muppets
During the Q&A at San Diego Comic-Con in 2015, an audience member commented, "I'm thrilled to see that Miss Piggy is the first female host of a late night talk show, [applause], and I was just wondering, are we going to get more women in The Muppets? [oohs from the audience]". Bill Prady began to answer, but was interrupted by Kermit, Gonzo, and Pepe for the sake of a few jokes. Miss Piggy asked "aren't I enough for you?" (YouTube)
Notable Female Characters
List of female Muppet performers
List of female writers for The Muppets
Sources
External links
Ad blocker interference detected!
Wikia is a free-to-use site that makes money from advertising. We have a modified experience for viewers using ad blockers

Wikia is not accessible if you've made further modifications. Remove the custom ad blocker rule(s) and the page will load as expected.