See also: Are Ernie and Bert gay? and Are Bunsen and Beaker gay?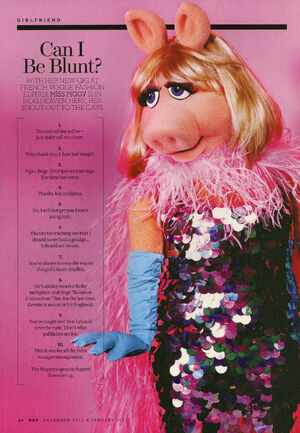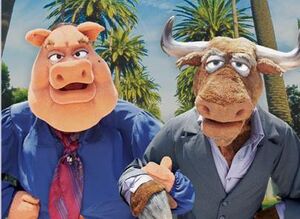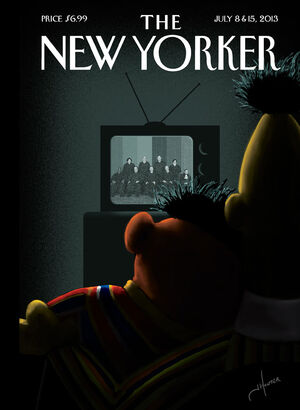 References
Garth Brooks' song "We Shall Be Free" was performed in Muppets Tonight episode 102. The song contains the line, "when we're free to love anyone one we choose ... we shall be free." The lyrics have been interpreted as a reference to supporting gay relationships; Brooks won a 1993 GLAAD Media Award for the song. Brooks, a supporter of gay rights, also performed the song at Equality Rocks, a gay rights march in Washington, D.C. in 2000.
Tinseltown was a 2007 television pilot produced by the Jim Henson Company for the LOGO network. The pilot followed the life of Bobby Vegan, an outspoken and struggling entertainer (and a pig), and his life-partner and manager, Samson Knight (a bull).
In addition to the Tinseltown pilot, many other Henson Alternative projects have referenced homosexuality. The Henson Alternative improv shows Puppet Up! and Stuffed and Unstrung have occasionally featured gay jokes and characters. The series Neil's Puppet Dreams featured Neil Patrick Harris and his husband David Burtka in a central role along with references to their relationship and sexuality. Additionally, the Henson Alternative television series No, You Shut Up! has featured references to homosexuality, including in-depth discussions of gay marriage in episode 102 (YouTube) and episode 318 (YouTube).
In November 2011, Miss Piggy gave a "snout-out to the gays" in Out, a popular gay and lesbian lifestyle magazine; Piggy shared ten very brief, personal notes on her connection with the gay community.
On November 17, 2011, while in New York City to promote The Muppets, Miss Piggy walked the red carped at the OUT100, an event honoring LGBT visibility, held at the Skylight SOHO.
In December 2011, Miss Piggy appeared as a guest at a fundraising event for The Trevor Project, a non-profit organization, focused on suicide prevention efforts among lesbian, gay, bisexual, transgender and questioning (LGBTQ) youth.
On being called a gay icon, Piggy commented in a 2014 interview: "I love being anybody's icon. I'm an icon to all who will have me."[1]
On a Twitter post for the United Kingdom premiere of The Muppets titled, Ask Kermit, when he was asked by a fan, "Should I become a Marketeer with a lesbian haircut or a teacher with a lesbian haircut?" Kermit, ignoring the lesbian remarks, replied, "U ask me--frog w/ no hair. Big fan of teachers. Not sure abt Marketeer. Is that like Mousketeers?"[2]
In the The Muppets episode "Pig Girls Don't Cry," Fozzie comments that "when your online profile says 'passionate bear looking for love,' you get a lot of wrong responses." He quickly corrects his wording and says "Uh, not 'wrong.' Uh, just wrong for me."
In The Muppets episode "Hostile Makeover," Pepe comments that he too gets the feels for Josh Groban. When everyone else acts shocked by the statement, Pepe comments, "What? He's a handsome man, and gender is fluid."
Additional notes
Frank Oz directed the 1997 film In & Out; the film was one of mainstream Hollywood's first attempts at a comedic "gay movie" and was widely noted at the time for a 10-second kiss between Kevin Kline and Tom Selleck.
Publicity for the "We Are Family" video featuring the Muppets was largely hijacked by conservative groups, saying the project was a vehicle for "pro-gay propaganda." Focus on the Family (a Southern Poverty Law Center designated anti-LGBT hate group) commented that they "see the video as an insidious means by which the organization is manipulating and potentially brainwashing kids".[3]
In 2002, conservative groups were outraged over rumors of an HIV-positive Muppet being introduced on Sesame Street. The Traditional Values Coalition stated it would "be another propaganda tool to normalize homosexuality in our culture."[4] The rumors were misguided, with Sesame Workshop having no plans to introduce an HIV-positive character on the American show, nor having any plans to introduce a homosexual character.
In 2012, due to controversies surrounding the fast food chain's positions on gay rights issues, the Jim Henson Company ceased a promotional partnership with Chick-fil-A. In a statement released by the company: "The Jim Henson Company has celebrated and embraced diversity and inclusiveness for over fifty years... Lisa Henson, our CEO is personally a strong supporter of gay marriage and has directed us to donate the payment we received from Chick-Fil-A to GLAAD."
Rumors, fan conjecture and outside jokes have long circulated regarding the sexuality of various Muppet characters due to the close relationships of some same-sex character pairs (such as Ernie and Bert, Bunsen and Beaker, and Statler and Waldorf) or due to traits or actions that follow common LGBT stereotypes (such as Howard Tubman, Miss Poogy, and some cross-dressing characters). These close, yet non-sexual, friendships and intimate relationships do not necessarily indicate anything of the characters' sexualities; likewise characteristics that do not conform to traditional gender roles do not necessarily indicate anything substantive about a character's sexuality or gender identity.
Sources
See also
External links