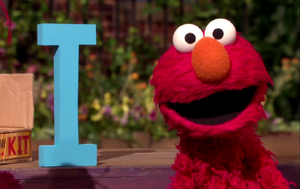 Since Elmo's inception as a recurring character, one of his main character traits is always referring to himself in the third person.
Instances using "I" or "Me":
Acknowledgements to the impediment
Elmo is asked about his impediment in a 2010 "Ask Elmo" video. He claims to get asks that a lot and says he was just born that way.
In episode 4270, Detective Alfie Betts (Adam Rodriguez) is able to deduce many things about Elmo upon meeting him, including knowing he always speaks in the third person. "Elmo does?" he replies.
In ABCs with Elmo, Professor Grover sets up a lesson on the alphabet. When wondering what letter follows H, Elmo states, "I." Grover is shocked, having never heard Elmo speak in first-person before.
Ad blocker interference detected!
Wikia is a free-to-use site that makes money from advertising. We have a modified experience for viewers using ad blockers

Wikia is not accessible if you've made further modifications. Remove the custom ad blocker rule(s) and the page will load as expected.