Ad blocker interference detected!
Wikia is a free-to-use site that makes money from advertising. We have a modified experience for viewers using ad blockers

Wikia is not accessible if you've made further modifications. Remove the custom ad blocker rule(s) and the page will load as expected.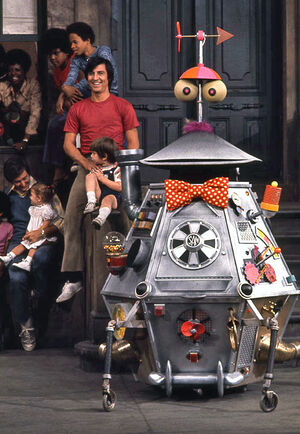 Sam the Robot (the Super Automatic Machine) is a "perfect" machine, who appeared on Sesame Street from Season 4 through Season 7. As he explains, "I am a machine that would be anything you like. What kind of machine do you want? I can do anything. Machines are better than people. Machines can do anything. I can be an adding machine, subtracting machine, gumball machine, soda pop dispensing machine, jukebox..." His birthday is May 23.[2]
Sam first appeared in the Season 4 premiere, episode 0406, where he met Gordon and Susan. He informed them that he was on Mulberry Street, not Sesame Street, because his programming told him to go to Mulberry Street, and machines don't make mistakes.
Sam was always ready to assist his friends on the street with their problems, but he invariably bungled his attempts. Despite his assertion that "machines are perfect," Sam frequently got stuck repeating the same few words over and over, until another character temporarily fixed the glitch by whacking him.
Sam also appeared as "Sam the Sesame Street Robot" in Marvel Comics' Spidey Super Stories #31: Star Jaws,[3] a Star Wars parody in which Sam teams up with Spider-Man and other characters to save Earth. As the only robot on the side of the "good guys," Sam's character is roughly a hybrid of the C-3PO and R2-D2 characters in Star Wars. The Star Jaws variant is smaller than the full-body Muppet character and is similar in size to R2D2. Unlike the original Sam the Robot, the Star Jaws Sam is not a predominantly comic character—he is physically agile and participates effectively in fight scenes, using his two front legs to kick his adversaries and jump to safety.
Jerry Nelson, who performed Sam in his debut appearance in season 4, alternated the role with Caroll Spinney,[4] who played Sam in a scene where he falls in love with a toaster that Luis is fixing. (YouTube)
According to a 2009 interview, Spinney "invented" Sam the Robot and was his original puppeteer.[5]
Sam left the show in the mid-70s, but a computer animated version—Sam the Super Automated Ghost of Christmas Future—appeared in the 2006 direct-to-video special A Sesame Street Christmas Carol. The futuristic Sam shares several of his predecessor's traits, including a bow tie, idiosyncratic eye movements, and a tendency to repeat the same few words.
In a 2009 interview, Jerry Nelson said,
"
I always thought they missed out on a good thing with Sam, and I thought a better way to do Sam was to let the little screen he had help segue into animation. I brought that up, but nobody seemed to think it was a good idea. I always thought that would've been a good way to use him, other than just going haywire. But that was probably me wanting my character to not be totally bogus. [6]
"
Norman Stiles spoke of the character in a 2014 interview:
"
This was a character we all tried to do at a time just when technology was starting to take off. We tried to do this robot character and it just didn't work. Sam used to try to talk to other machines, like toasters for instance. It just didn't work. Most of the writers had a hard time coming up with ideas for him, which is a sure sign that the character we created didn't have legs… or wheels, in this case."[7]
"
Book appearances
External links
Sources
↑ 1.0 1.1 Falk, Karen. "Jim Henson's Red Book", 8/31/1972 – Robot due on Sesame Street.
↑ A.J. Hays and J. Mishkin, Eds. Spidey Super Stories, Vol. 1, No. 31, Marvel Comics Group, New York, NY: February, 1978.
↑ Twardzik, Cathleen. "Who is the fellow that's fluffy and yellow?'" The Somerville News, February 22, 2009. Web. (Accessed 17 Oct. 2009)
↑ Nelson, Jerry Tough Pigs interview
↑ Muppets Gone Missing: Norman Stiles at GraphicPolicy.com