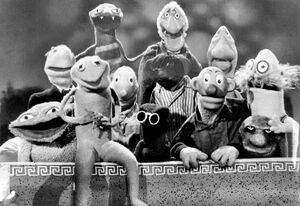 Sam and Friends was Jim Henson's first television show, a five-minute show that aired twice daily on WRC-TV, the NBC affiliate in Washington, D.C. The show ran from May 9, 1955 to December 15, 1961.
The title character was a humanoid named Sam. However, of the surviving episodes, Sam's sole appearance is lip-synching to Louis Prima's "That Old Black Magic." A more enduring star of the series was Kermit, not yet a frog, and often performing in a wig. Other characters included the voracious Yorick, beatnik Harry the Hipster, excitable Professor Madcliffe, Chicken Liver, and utility players Hank and Frank. Other characters possessed more ephemeral personalities, and in many cases, their existence is defined only by photographs and surviving puppets. This roster includes Mushmellon, Icky Gunk, Henrietta, Omar, Moldy Hay, and the earliest Muppet star, Pierre the French Rat, amongst others. Characters were performed by Henson and Jane Nebel. Bob Payne joined in 1958 to substitute for Henson, who was traveling in Europe, and Jerry Juhl filled in for Jane in the final season.
The series was heavily reliant, particularly in its earliest installments, on puppet characters lip-synching to records, usually novelty songs or comedy routines from the likes of Stan Freberg, Bob and Ray, Spike Jones, and Louis Prima, amongst others. Henson experimented with character voices in such sketches as "Powder-Burn," and in commercials for the show's sponsor, Esskay Meats. Though the earliest skits were in black and white, later sketches such as "Poison to Poison" were transmitted in color.
Some of the show's original puppets were on display in the Muppets and Mechanisms: Jim Henson's Legacy exhibit at The Smithsonian Institution, and are now a part of the Smithsonian's permanent collection.
Known Episodes
According to the Jim Henson Company Archives, very few of the original shorts have survived over the years. Existing spots can be viewed at The Paley Center for Media.
| Picture | Episode | Description |
| --- | --- | --- |
| | Anything You Can Do | Kermit performs a parody of "Anything You Can Do" with prerecorded footage of himself. |
| | C'est Si Bon | In a French village setting, Moldy Hay lipsynchs to Stan Freberg's rendition of "C'est Si Bon," with Hank and Frank constantly missing their cues in the backup choir. |
| | A Horse Named Bill | Kermit lipsynchs and plays the banjo to a recording of "A Horse Named Bill". |
| | Huntley and Brinkley | Kermit hosts an interview with NBC News anchormen Chet Huntley and David Brinkley (as played by Hank and Frank). |
| | I've Got You Under My Skin | Lipsynching to a comedy record by Stan Freberg, Kermit messes up the song "I've Got You Under My Skin", with his backup choir repeating everything he sings. |
| | Poison to Poison | Lipsynching to a Spike Jones track, Harry the Hipster (as "Ed Burrow") interviews Chicken Liver (as Alfred Hitchcock) in his rather horrifying home. |
| | Powder-Burn | A pun-filled Wild West story, spoofing Gunsmoke, in which Marshall Dilly (Chicken Liver) is preparing for a showdown with Black Bart (Yorick) - which results in a game of chess. This is one of the few known instances where Yorick speaks. |
| | Singin' in the Rain | A Muppet with a little girl's voice in the rain lipsynchs to a double-speed version of "Singin' in the Rain". The scene ends with her drowning in a flood. |
| | That Old Black Magic (1957) | Kermit and Sam lipsynch to a recording of "That Old Black Magic" by Louis Prima and Keely Smith . |
| | There's a New Sound | Henson used a puppet made from the skull of a squirrel to lipsynch to a recording of "There's a New Sound."[1][2] |
| | Tweedle Dee (1955) | In The Muppet Show episode 218, Kermit introduces "Tweedle Dee" as "the very first piece of material the Muppets ever did ... about 23 years ago." |
| | Visual Thinking (1959) | In a mix of puppetry and animation, Harry demonstrates the art of Visual Thinking to Kermit -- and what it does to you once it gets out of control. |
| | The Westerners | Lipsynching to a Bob and Ray recording, Kermit and Chicken Liver are two cowboys who are having a little trouble getting off their horses. |
| | Where Hunger Is From | Yorick lipsynchs to "Hunger Is From" by Ken Nordine, about midnight snacking while eating a plate full of food. |
| | The Yellow Rose of Texas | Kermit lipsynchs to a Stan Freberg recording of "The Yellow Rose of Texas" and deals with an out of control drummer. |
| | Weather Warehouse | Harry demonstrates to a skeptical Kermit his new business for selling weather, and gives him a tour of the warehouse.[3] |
| | Stan Freberg Demands Credit | Stan Freberg himself pops his head into frame and criticizes the Muppets for using his records without giving him credit. Kermit says "here's a little credit" and pounds him back out of frame with a mallet.[4] |
| | Final Episode (December 15, 1961) | Kermit sings a song, then discusses the end of the series with Harry -- who blows up all the scenery and equipment since they won't need it anymore. (This sketch is not generally available for viewing, although the footage is known to still exist.)[5] |
Gallery
Sources
External links