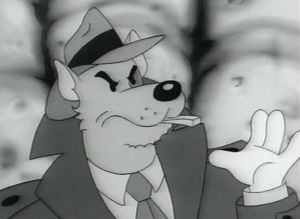 Sam Spayed is a classic animated detective hero who appears in the Dog City episode "Old Dogs, New Tricks." Sam was created as a black and white character by Scratch McCollie, and with an updated design, takes a mentor role towards Ace Hart, as they attempt to stop Baron Von Rottweiler.
His name is a take on Dashiell Hammett's character Sam Spade from The Maltese Falcon, and his voice is an imitation of Humphrey Bogart's from the 1941 film version.
Ad blocker interference detected!
Wikia is a free-to-use site that makes money from advertising. We have a modified experience for viewers using ad blockers

Wikia is not accessible if you've made further modifications. Remove the custom ad blocker rule(s) and the page will load as expected.