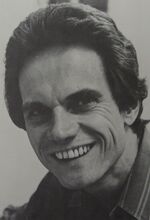 Samuel H. Pottle (usually credited as Sam Pottle) (May 8, 1934 - July 4, 1978) co-wrote the theme song for The Muppet Show with Jim Henson, and followed Joe Raposo as the musical director on Sesame Street from seasons 6 through 9. He wrote and co-wrote the music for many Sesame songs, and had a one-off character named after him.
A 1955 Yale graduate, Pottle was involved with many theatrical productions. He served as musical supervisor for the short-lived 1970 Broadway play Cry for Us All and composer for Money. He wrote the music for the 1977 musical The Meehans. He was also the conductor, in 1966, for the Broadway play The Mad Show.
He wrote the music for a play called Keep Tightly Closed in a Cool Dry Place at the La MaMa Experimental Theatre Club in 1968, and composed a musical arrangement for Lewis Carroll's poem "Jabberwocky," which has been performed by groups like the Nashoba Valley Chorale.
Following Pottle's death on July 4, 1978, his friend and fellow Sesame writer Charles ("Chuck") Choset dedicated the 1982 plays Letters to Ben and The Messiah to him.
Sesame Street Songs
External links
Ad blocker interference detected!
Wikia is a free-to-use site that makes money from advertising. We have a modified experience for viewers using ad blockers

Wikia is not accessible if you've made further modifications. Remove the custom ad blocker rule(s) and the page will load as expected.