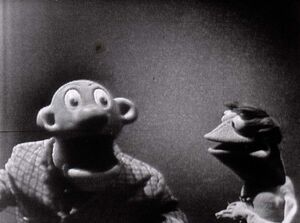 Sam was the main character of Sam and Friends. He was the only non-abstract human character. Sam never spoke, but would lip-sync to popular music and comedy records of the time. Sam was made of papier mâché. He was built in October 1954.[1]
The only surviving Sam and Friends episode starring Sam is Sam lip synching to Louis Prima and Keely Smith's "Old Black Magic" with an early Kermit. According to that skit, Sam's wardrobe is courtesy of Hialeah Racetrack.
Sam was one of the few characters with a rigid face. Most of the other characters had flexible features that were more conducive to the close-up medium of television.
In addition to Sam and Friends, Sam has made appearances on Mac McGarry's On Our Town,[1] Footlight Theatre,[2] and Today. Sam made a comeback appearance, along with Yorick and Harry the Hipster, in The Muppets: A Celebration of 30 Years.
See also
Sources
↑ 1.0 1.1 The Sunday Star, page 5, March 29, 1959, pictured at Jim's Red Book - 1/27/1975 -'Go to Washington put 1st Bert and Ernie in Smithsonian - dinner with Joe Irwin'
↑ Imagination Illustrated Page 17