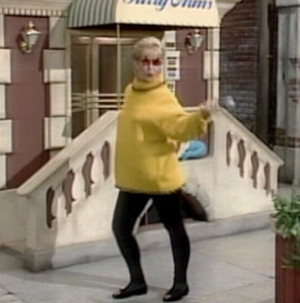 Sally Jessy Raphaël (b. 1935) is a television personality who served as host of an eponymous, syndicated television talk show from 1983 until 2002, and currently hosts the radio series Sally JR's Open House.
Raphaël appeared on Sesame Street participating in the celebrity version of A New Way to Walk, and in a cameo on the Aliens in the Family episode "Dissected and Neglected".
Raphaël has been spoofed several times by the Muppets. Grouch talk show host Sally Messy Yuckyael appeared on Sesame Street in episode 3120 and episode 3763, and a bespectacled dinosaur host named "Sally" appeared in the Dinosaurs episode "Out of the Frying Pan".
Other cameos include the films The Addams Family, The Associate (with Whoopi Goldberg), and She-Devil (with Meryl Streep), and the television series Hollywood Squares, TV Funhouse (with Robert Smigel), and The Rosie O'Donnell Show.
External links