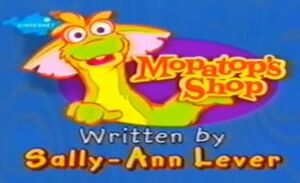 Sally-Ann Lever is a writer who scripted many episodes of Mopatop's Shop.
Lever has also written for Angelina Ballerina, Pingu, and Rubadubbers as well as the BBC series Hotch Potch House. Outside of television, she has written children's books, mostly early readers, including the Kung Fu Katy series.
Writing credits
Ad blocker interference detected!
Wikia is a free-to-use site that makes money from advertising. We have a modified experience for viewers using ad blockers

Wikia is not accessible if you've made further modifications. Remove the custom ad blocker rule(s) and the page will load as expected.