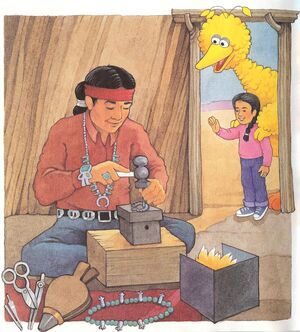 Sally is Joey's sister in the Sesame Street book Big Bird Visits Navajo Country. When Big Bird comes to visit them in New Mexico, Sally takes Big Bird around their homestead to show him their way of life.
They visit with her Uncle Tony who is in charge of the family's sheep herd, visit with her Dad as he makes jewelry, water corn with her Grandmother, and watch her mother weave a blanket on a loom.
See also
Ad blocker interference detected!
Wikia is a free-to-use site that makes money from advertising. We have a modified experience for viewers using ad blockers

Wikia is not accessible if you've made further modifications. Remove the custom ad blocker rule(s) and the page will load as expected.