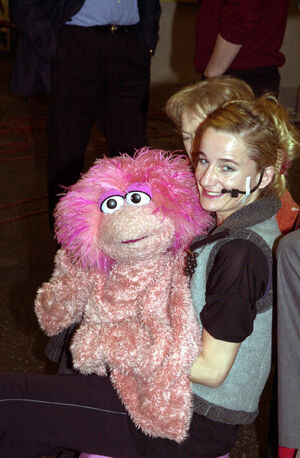 Sabine Falkenberg (b. 1966) is a German puppeteer and voice actress who performed Tiffy on Sesamstrasse and has also dubbed the voice of Elmo from 2000 to 2012. She inherited Tiffy from puppeteers Kerstin Siebmann-Röders and Marita Stolze, respectively, until the character was retired after 27 years on the show in 2005.
Falkenberg's other credits include narrating German audio books and assorted film dubbing work, including the character of Laura Palmer on Twin Peaks, actress Mia Sara in Time Cop, and minor guest roles on Lost. In recent years, she has been increasingly active as an on-camera performer, with guest parts on various German TV shows.
External links
Ad blocker interference detected!
Wikia is a free-to-use site that makes money from advertising. We have a modified experience for viewers using ad blockers

Wikia is not accessible if you've made further modifications. Remove the custom ad blocker rule(s) and the page will load as expected.