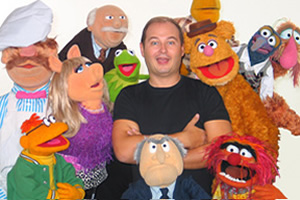 Sébastien Cauet (b. 1972) is a French radio and television producer and comedian. Cauet has broadcast for many years on the privately owned network Fun Radio. His series utilize low-brow political satire and humorous songs.
In 2005, Cauet purchased the rights to create a French version of The Muppet Show, for which he would produce, write, and supply the voice of Kermit the Frog.
A pilot was shot, and the new series, titled Muppets TV, debuted on October 29, 2006. It ran for ten more episodes.
For the final show on December 31, 2006, Cauet appeared as a guest star, amongst others.
Ad blocker interference detected!
Wikia is a free-to-use site that makes money from advertising. We have a modified experience for viewers using ad blockers

Wikia is not accessible if you've made further modifications. Remove the custom ad blocker rule(s) and the page will load as expected.