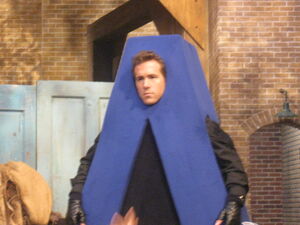 Ryan Reynolds (b. 1976) is a Canadian actor who has appeared in X-Men Origins: Wolverine, Harold & Kumar Go to White Castle, Waiting, Green Lantern (with Tim Robbins and Geoffrey Rush) and The Proposal (with Sandra Bullock and Betty White).
Reynolds appears in the 41st season of Sesame Street. Along with his main A-Team street scene, he appears in "The Elmo Slide" video.
Reynolds spoke to Empire magazine about his favorite Muppet: "Gonzo. I like a mentally unhinged creature with a fist up his ass. Call me crazy, throw me in jail, go ahead - that's what I'm into."[1]
External links
Sources
↑ Empire issue 272 "Stars Reveal Their Favourite Muppets" February 2012