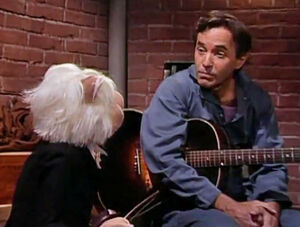 Ry Cooder (1947) is an American guitarist, singer and composer. He is known for his slide guitar work, his interest in roots music from the United States, and, more recently, his collaborations with traditional musicians from many countries.
Cooder appeared in The Ghost of Faffner Hall episode "Music Is More Than Technique" as a janitor. He shares a scene with Piganini, encouraging his violin playing.
Ad blocker interference detected!
Wikia is a free-to-use site that makes money from advertising. We have a modified experience for viewers using ad blockers

Wikia is not accessible if you've made further modifications. Remove the custom ad blocker rule(s) and the page will load as expected.