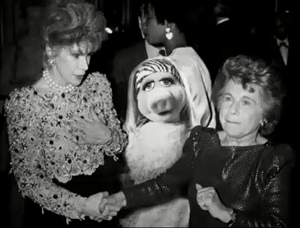 Ruth Westheimer (b. 1928) is an American sex therapist, media personality, and author best known as Dr. Ruth. She began her career in broadcasting in 1980 with Sexually Speaking a radio show taped in the NBC studios of Rockefeller Center.
E! released a short documentary-style video looking at the history of a "celebrity fight" between Miss Piggy and Joan Rivers titled Behind the Feud: Joan Rivers and Miss Piggy. The video features interviews with celebrities and includes doctored photos with Liza Minnelli and Westheimer.
She has appeared as herself on The Simpsons, Hollywood Squares, Love Boat: The Next Wave, Quantum Leap and Moonlighting.
External links
Ad blocker interference detected!
Wikia is a free-to-use site that makes money from advertising. We have a modified experience for viewers using ad blockers

Wikia is not accessible if you've made further modifications. Remove the custom ad blocker rule(s) and the page will load as expected.