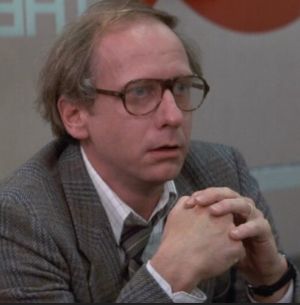 Russell Horton (b. 1941) is a voice actor who played Mr. Maestro in the album Big Bird Discovers the Orchestra. He also doubled (uncredited) as all other male speaking/singing voices: Jean-Jacque Jean (french horn player), trumpeter Flip Flunkit, Stan (the Trombone Man), Booba (tuba player), violinist Victor Vivaldi, celloist Variety Vivaldi, and bassist Vernado Vivaldi.
Horton is best known as the voice for the Trix Rabbit in the cereal commercials. Other voice credits include scores of appearances on the old-time radio revival series The CBS Radio Mystery Theater, the droid 2-1B in the NPR Star Wars radio dramatizations, Dad on the animated series Kenny the Shark, and multiple roles in the video game Red Dead Revolver (with the voices of Emilio Delgado and Tyler Bunch).
On-camera, Horton had a bit part in Annie Hall, with slightly larger roles in Starting Over, Cat's Eye, and Bright Lights, Big City. In television, he guest starred on episodes of The Twilight Zone, Law & Order, 3-2-1 Contact, and Miami Vice.
External links