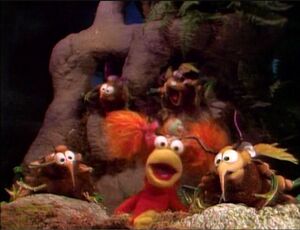 A Rumble Bug is a small, beetleish creature in that lives in the "Cave of the Rumble Bugs." Rumble Bugs can vocalize a humming sound as well as produce a sound similar to that of a kazoo. Both Rumble Bugs and The Rumble Bug Hum are featured in the Fraggle Rock episode "All Work and All Play."
The Rumble Bugs themselves were seen again 3 years after Fraggle Rock ended as background characters in The Song of the Cloud Forest.
Ad blocker interference detected!
Wikia is a free-to-use site that makes money from advertising. We have a modified experience for viewers using ad blockers

Wikia is not accessible if you've made further modifications. Remove the custom ad blocker rule(s) and the page will load as expected.