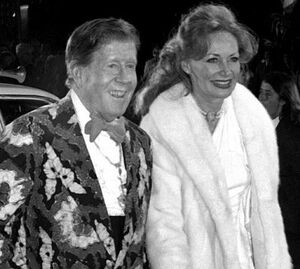 Rudy Vallee (1901-1986) was an actor and singer, known for singing into megaphones, one of the early radio stars, and often appeared in screwball comedy films (notably Preston Sturges' The Palm Beach Story). He enjoyed a career comeback on Broadway in the 1960s, originating the role of pompous J. B. Biggley in the musical How to Succeed in Business Without Really Trying.
Vallee was one of the celebrities invited to The Muppet Movie pre-screening party The Muppets Go Hollywood event. He was not included in the footage used in the broadcast special, but his presence was acknowledged through his name in Sam the Eagle's autograph book.
References
Vallee was the inspiration for the Rudy Vallee Doozer on Fraggle Rock in "The Great Radish Famine," who sings into his megaphone.
External links
Ad blocker interference detected!
Wikia is a free-to-use site that makes money from advertising. We have a modified experience for viewers using ad blockers

Wikia is not accessible if you've made further modifications. Remove the custom ad blocker rule(s) and the page will load as expected.