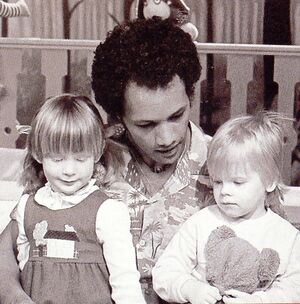 Rudi Kuhn played Rudy on Sesamstraat, the Dutch co-production of Sesame Street, from 1980 to 1985.
Rudi started his Sesamstraat career as Joyce's assistant in the Sesam Class preschool, interacting with children. Joyce and her preschool disappeared the next season, but Rudi stayed. His most important role was to read a story of the cat Dikkie Dik to kids in the studio.
Rudi was the first Surinamese inhabitant of Sesamstraat. He fit in perfectly with the innovative style of the earlier episodes: a male preschool teacher was quite rolebreaking in these days.
The Dikkie Dik stories were illustrated by Jet Boeke. Nowadays, the Dikkie Dik stories are read by Frank Groothof as a voiceover.
A well known group of Dutch comedians known as De Vliegende Panters (The Flying Panthers) performed a classic parody of Rudi reading Dikkie Dik stories to a group of kids in 1999.