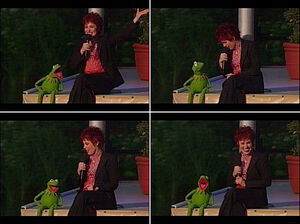 Ruby Wax (b. 1953) is an American comedienne who is famous in the United Kingdom. She found fame from her celebrity interviews, as well as her guest spots on Absolutely Fabulous.
In 2002 she appeared alongside Kermit the Frog at the Golden Jubilee for Queen Elizabeth II.
External links
Ad blocker interference detected!
Wikia is a free-to-use site that makes money from advertising. We have a modified experience for viewers using ad blockers

Wikia is not accessible if you've made further modifications. Remove the custom ad blocker rule(s) and the page will load as expected.