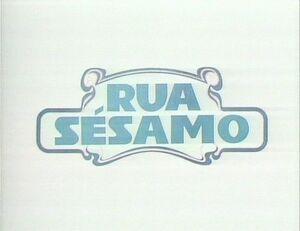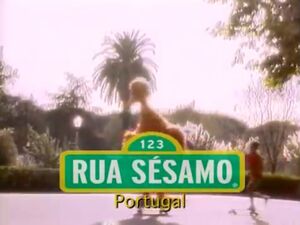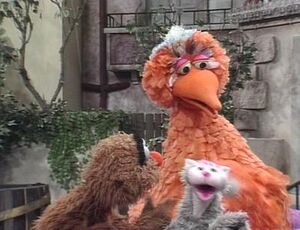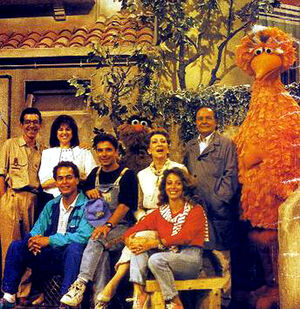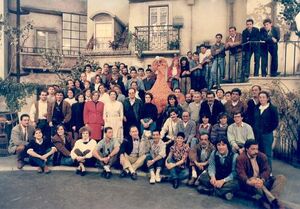 Rua Sésamo is the Portuguese co-production of Sesame Street.
It aired for only a short period of time, from 1989 until 1994. It was broadcast by RTP. Series 2 debuted on December, 1990 with 125 episodes.
Poupas was a full-body character who was nearly identical to Big Bird, except for his orange feathers, his blue and purple feathers on his tail and head and black-and-pink eyelids. Ferrão was a brown Grouch who lived in crates on Rua Sésamo. Tita was a female cat performed by Filipa Melo and Paula Velez for the other hand.
Tita also appeared on the US Sesame Street special Sesame Street Stays Up Late.
Episodes
In November 2008 the first Rua Sésamo version of Sesame Street Live was produced. It was presented by Mandrake in association with Sol, produced by Vee Corporation Usa situated in Lisbon. Tickets were priced between €25 and €28,50 each.
It was a big production with 25 technicians and 23 actors who played Ernie, Bert, Big Bird (called Poupas) and others. There were also 10 specialists who worked backstage for sound, light, figuration, stage, scenery and text. 15 people also assisted on stage.
Schedule
11/7/08 - 11/9/08: Europarque (Lisbon)
11/14/08 - 11/16/08: Santa Maria da Feira
11/21/08 - 11/23/08: Figuera Da Foz
Production credits
The cast included: Sérgio Godinho, Nuno Lopes, Henrique Feist, Susana Félix, JP Simões, Tânia Ribas de Oliveira, Paula Oliveira, Filipa Pais, João Nuno Martins and Ricardo Spínola.
Lyrics, direction and translations by Tiago Torres da Silva.
Musical director: Paula Oliveira
Cast
Puppeteers
Actors
Carla Pinguinha as Andreia
Tatiana Gaspar as Menina do "Telefone Está a Tocar"
Fernando Gomes as José Maria
Vítor Norte as André
José Luís Trindade as Gil
Luís Filipe Marques as Agapito Vermelho
Margarida Gama as Agapita Rosa
Portuguese Voices
See also
External links