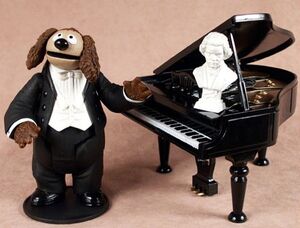 Series: 3 (February 2003)
Articulation: ears, neck, ball-jointed shoulders, biceps, wrists, hips
Accessories: baby grand piano, Bust of Beethoven, base
The Rowlf Action Figure, featuring Rowlf in a tuxedo, was released in the third series of The Muppet Show action figures produced by Palisades Toys as part of the show's 25th anniversary marketing campaign.
A naked Rowlf had been sculpted at the time but wouldn't be produced until the end of 2004 when he was included in the Backstage Playset.
The piano has a lid that opens and closes. The set also included a Bust of Beethoven.
A White Tux Rowlf Action Figure give-away was produced for Toy Fair 2002.