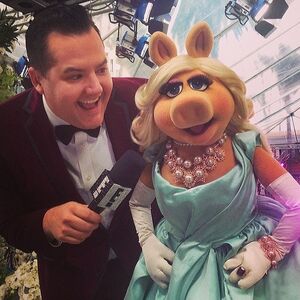 Ross Mathews is a regular panelist on Chelsea Lately, having come to popularity as Ross the Intern on Tonight Show under Jay Leno. Other appearances include 1 vs 100, Days of our Lives, and host of the offical The Amazing Race webshow.
In 2011, Mathews introduced a "Rainbow Connection" duet by Darren Criss and Kermit the Frog, during an E! network lead up to their red carpet show for the Academy Awards Ceremony telecast.
On March 2, 2014, Mathews hosted the E! Countdown to the Red Carpet leading up to the Academy Awards, with some help from Miss Piggy.
Ad blocker interference detected!
Wikia is a free-to-use site that makes money from advertising. We have a modified experience for viewers using ad blockers

Wikia is not accessible if you've made further modifications. Remove the custom ad blocker rule(s) and the page will load as expected.