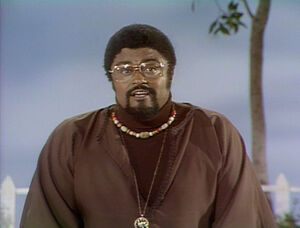 Rosey Grier (b. 1932 as Roosevelt Grier) is a retired football player (playing with the New York Giants and the Los Angeles Rams) who turned to acting in the 1960s. He guest starred on Sesame Street in the 1970s, singing "I Used to Be One of the Little Kids" (EKA: Episode 1126) and helping one of the kids (EKA: Episode 1200).
Grier's best known acting credit was as half of the title character in The Thing with Two Heads (1972). He also had a regular role for the final season of Daniel Boone (1969-1970) as Gabe Cooper, plus guest appearances (often as himself or as fictional athletes) on The Man from U.N.C.L.E., The Jeffersons, The White Shadow, The Love Boat, Quincy M.E., The Larry Sanders Show, and The Simpsons.
External links
Ad blocker interference detected!
Wikia is a free-to-use site that makes money from advertising. We have a modified experience for viewers using ad blockers

Wikia is not accessible if you've made further modifications. Remove the custom ad blocker rule(s) and the page will load as expected.