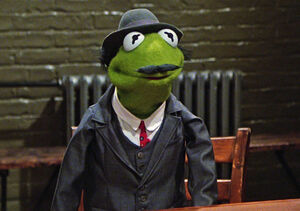 Rosenthal is an identity assumed by Kermit the Frog in The Great Muppet Caper. Kermit poses as Miss Piggy's attorney, as a means of visiting her in prison. Clad in a gray suit, wig, and moustache, he explains the plan to capture Nicky Holiday and his gang and prove Piggy's innocence. When Miss Piggy utters a heartfelt "I love you, Rosenthal!", the pair kiss through the bars. Piggy ends up with Rosenthal's moustache, and Kermit has mesh marks on his face.
Ad blocker interference detected!
Wikia is a free-to-use site that makes money from advertising. We have a modified experience for viewers using ad blockers

Wikia is not accessible if you've made further modifications. Remove the custom ad blocker rule(s) and the page will load as expected.