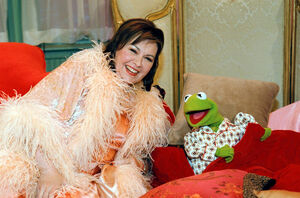 Roseanne Barr (1952) is an actress best known for playing Roseanne Conner on the sitcom Roseanne.
Her talk show, The Roseanne Show, ran from 1998 to 2000. Kermit the Frog co-hosted an episode with Barr in the second season.
Barr's other credits include hosting Saturday Night Live, the feature films Look Who's Talking Too (with John Travolta, Kirstie Alley and Bruce Willis), She-Devil (with Meryl Streep), and TV appearances on 3rd Rock from the Sun, The Nanny, Futurama and My Name Is Earl.
Ad blocker interference detected!
Wikia is a free-to-use site that makes money from advertising. We have a modified experience for viewers using ad blockers

Wikia is not accessible if you've made further modifications. Remove the custom ad blocker rule(s) and the page will load as expected.