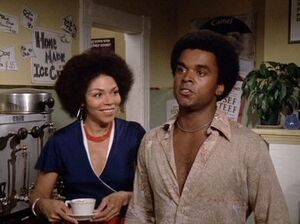 Rosalind Cash (1938-1995) was an actress whose career endured and flourished on stage, screen, and television, despite her staunch refusal to portray stereotyped black roles. Ms. Cash was nominated for an Emmy Award for her work on the PBS production of Go Tell it on the Mountain.
Ms. Cash performed the voices for Roosevelt Franklin's Mother and his sister Mary Frances Franklin on the 1971 album The Year of Roosevelt Franklin.
Cash's other credits include the soap opera General Hospital, Lois & Clark: The New Adventures of Superman, The Fresh Prince of Bel-Air, thirtysomething, Hill Street Blues, Barney Miller, The Mary Tyler Moore Show and The Cosby Show.
External links
Ad blocker interference detected!
Wikia is a free-to-use site that makes money from advertising. We have a modified experience for viewers using ad blockers

Wikia is not accessible if you've made further modifications. Remove the custom ad blocker rule(s) and the page will load as expected.