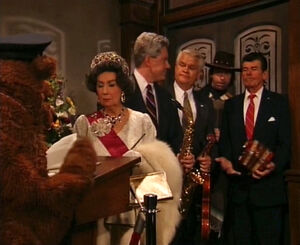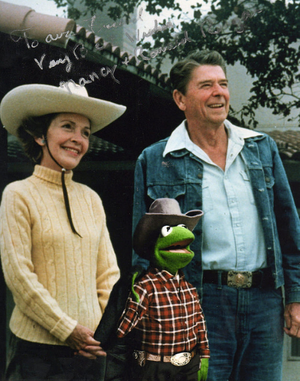 Ronald Reagan (1911-2004) was an actor, Governor of California from 1967 to 1975, and the 40th President of the United States of America from 1981 to 1989. His film career included key roles in Dark Victory, This Is the Army, and Knute Rockne, All American.
References
In the fourth season Farscape episode "Kansas," John Crichton arrives back on Earth in 1985, and hears an audio transmission, which quotes President Reagan's concerns over the situation in Nicaragua. In episode "Revenging Angel", animated Aeryn transforms into Nancy Reagan.
Ad blocker interference detected!
Wikia is a free-to-use site that makes money from advertising. We have a modified experience for viewers using ad blockers

Wikia is not accessible if you've made further modifications. Remove the custom ad blocker rule(s) and the page will load as expected.