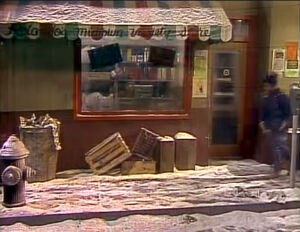 In the 1978 special Christmas Eve on Sesame Street, Rolando's Midtown Variety Store is a general store that the Sesame Street gang passes by on their way home from the skating rink. When returning home, the gang enters the street from beside the construction doors that border Big Bird's nest, which would suggest that the store would be somewhere around the corner.
Cookie Monster might be a frequent shopper there; as the gang passes by, he can be seen peeking out the window in the front door of the store.
Ad blocker interference detected!
Wikia is a free-to-use site that makes money from advertising. We have a modified experience for viewers using ad blockers

Wikia is not accessible if you've made further modifications. Remove the custom ad blocker rule(s) and the page will load as expected.