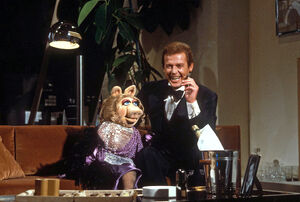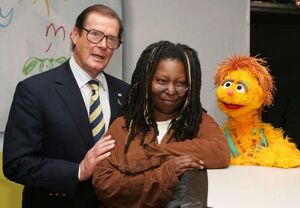 Roger Moore (1927-2017) was best known for playing two notable secret agents: the enigmatic Simon Templar in the ITC Entertainment series The Saint, and most famously the spy protagonist James Bond in a series of films from Live and Let Die (1973) to A View to a Kill (1985). He guest starred on The Muppet Show episode 524.
Moore appeared with Whoopi Goldberg and Kami to promote an ad campaign for UNICEF about the impact of AIDS on children on October 27, 2005.
Aside from his famous spy roles, Moore has appeared in the Spice Girls film Spice World, guest starred on Alias and Alfred Hitchcock Presents, and as himself on Rowan & Martin's Laugh-In.
References
External links
Ad blocker interference detected!
Wikia is a free-to-use site that makes money from advertising. We have a modified experience for viewers using ad blockers

Wikia is not accessible if you've made further modifications. Remove the custom ad blocker rule(s) and the page will load as expected.