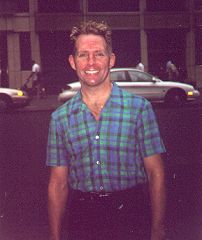 Roger Kachel (1961-2006) was a Broadway dancer, actor, and singer. In 1980, Kachel played Ernie in the first Sesame Street Live tour, A Sesame Street Mystery: The Case of the Missing Rara Avis.
Kachel was closely associated with the musical Cats. He performed in various touring productions as well as the Broadway show for approximately 14 years, playing every male role as a swing, understudying Mistoffelees, and in the final years of the show's Broadway run, starring as Mungojerrie. Kachel also appeared in another Andrew Lloyd Webber musical on Broadway, Starlight Express, and appeared in regional productions of Evita, A Chorus Line, and Anything Goes. In film, Kachel danced in Tuff Turf (with Robert Downey, Jr. and Panchito Gomez), Staying Alive, and Girls Just Want to Have Fun. In 1990, he toured in a Teenage Mutant Ninja Turtles stage show, as Donatello.
Openly gay, Kachel also ran a dessert business, and in his later years, focused mainly on his second career as a baker.
External links