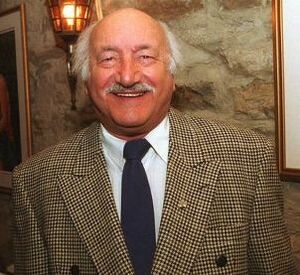 Roger Joubert (1929-2010) was a French-Canadian actor, pianist, and radio personality. He dubbed Kermit the Frog on Bonjour Sesame, the 1975 Québécois French dub of Sesame Street for the Canadian market.
Joubert was part of the ensemble cast on the CBC radio comedy series Le Festival de l'humour québécois from 1974 to 1989. On television, he was a regular on the French-language sitcoms Moi et l'autre (1966-1971), as landlord Monsieur Lavigueur, and also composed the theme song. He co-starred on another sitcom Chez Denise (1979-1982), as chef Firmin Lapaliss and then reprised it on two spin-offs.
External links
Ad blocker interference detected!
Wikia is a free-to-use site that makes money from advertising. We have a modified experience for viewers using ad blockers

Wikia is not accessible if you've made further modifications. Remove the custom ad blocker rule(s) and the page will load as expected.